Forum readers may have come across Adam Perry Lang's name when he won the Pork BarbQlossal, or when he was up against Bobby Flay on Iron Chef. But in New York City, the names Daisy May's BBQ USA and Adam Perry Lang have been hard to miss with their popular bbq and chili carts sprinkled throughout  the streets of Manhattan (pioneering an overhaul of street food options in the city).
Starting in highbrow French kitchens to hone his skills, Adam has smoothly transitioned to making bbq that consistently garners rave reviews and hints at the depth of his experience. Daisy May's started out as take-out only, but has recently added seating. One of Adam's other jobs is serving steaks at Robert's Steakhouse (inside the Penthouse Executive Club, an 'adult' venue). Tough life, I'm sure.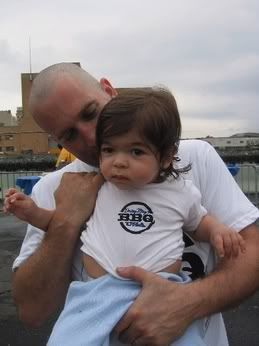 Name? Adam Perry Lang
Where From and/or where do you currently live?I was born in Brooklyn, New York but I was raised on the North Shore of Long Island.  I currently live on the West Side of Manhattan five blocks from my restaurant Daisy May's BBQ
Married, kids, etc…? Married eight years to my wife Fleur, whom I meet while working in Paris France.  We have a two and a half year old boy named Max
Profession (even if not bbq 24/7– if you cater, vend, etc please mention)?
I am chef/owner of Daisy May's BBQ as well as the executive chef of Robert's Steakhouse.
# of pits and what are they? I have a Horizon 30", Two Green Eggs, Two Viking C4, La Caja China, and soon to arrive, Caldera.
Have you ever made your own pit, if so, how many and what styles?
I have mad a bbq out of a Igloo cooler with the combination of a hot plate, lava rocks and a cast iron skillet
Earliest memory of bbqing– is/was your family involved? My earliest memory of BBQing was quite recent, it happened on a New Mexican Ranch with a group of displaced Texas Ranch-hands.
Favorite thing about bbqing? Getting to meet other people from around the country in a communal setting, being outdoors, managing the unpredictable factors, while trying to prevail to the best of my ability.
How you found the forum and when (if you can remember)? Ray Lampe told me about it, and I tuned in after I competed in Barbeqlossal.  I tune in now several times a day – but contribute every so often.
What was your first pit? A used Horizon 30".
First thing you remember cooking (doesn't have to be bbq)? Candies made with peanut butter when I was 4 years old.
Favorite bbq woods, charcoal, rub, sauce, etc? For woods-fairly green young applewood – 2" diameter; Charcoal – Kingsford; Sauces – Head Country
Favorite/best competition memory (where, when, who with, team name, etc….)? Barbeqlossal under Team Daisy May BBQ when I competed alone with the help of a whole lot of other teams.
Do you eat bbq in restaurants– if so, where, when why? Yes  – everywhere and as often as I can.
 
Favorite record albums, books, TV shows, movie, etc…whatever you want to include. Favorite album Bruce Springsteen – Born to Run; Favorite Book: Earnest Hemingway – A Movable Feast; Favorite Movie – The Old Man and the Sea; Favorite TV Show – Guy Harvey Sportsfishing Journal
Favorite non-BBQ Food to eat and/or cook (or thing you eat most often when not eating bbq)? Grilled Hot Dogs with Mustard and Saurkraut
Favorite beer, favorite beer to drink w/ food? Any kind will do.
Favorite BBQForum Thread (can include "what's an abt?" if you want)?
I don't have any favorites, just like the exchange on what's doing while learning from others and I like to help when I can
Least Favorite BBQForum Thread (ditto)? Any thread when people get personal.
Do you have a web site and when did you start and why? http://www.daisymaysbbq.com/ .  I started so I could direct customers to read a little more about us and our menus.