Wed 8 Mar 2006
Many regular forum visitors have probably seen Steve's handle YankeeBBQ somewhere along the way, and if you've read Steve Farrin's posts, you've probably noticed that he's one of the more quick-witted characters around. You've also probably seen him always willing to help out with advice, information and support wherever possible. A nomadic cooker, Steve's cooked all over the place with both of his teams, I Smell Smoke and Team Agave, often showing up with no pit and few ingredients, and still manages to succeed. He is extremely active as a board member of the New England Barbecue Society, updating their website and helping to promote the sport of bbq in the northeast. Below is a brief overview of the teams.
I Smell Smoke: Steve Farrin, Doug Pini, Dale Farrin, Charlie Pini, Pat Brogden, Carmen Pini,  Carlotta Pini
 
2005 Results: Mass State Champion; Connecticut State Champion; Grand Champ of Snow Shoe Grilling Challenge; Reserve Grand at Cape Cod BBQ Challenge; Reserve Grand at Highland NY ribfest; First Place ribs at Jack Daniels; 9th chicken and 11th Brisket at American Royal Invitational; 1st Pork overall NEBS
Team Agave (Past and Present Members): Steve Farrin, Dave Peterson, Nancy Peterson, Dave Frary, Mike Grudzinskas, Dale Farrin, Kirsten Grudzinskas, Garry Howard, Rich Decker
Team Agave Highlights : 2004 Maryland State Champion; Grand Champ BBQ on the River Bristol PA; Grand Champ New Holland PA Summerfest; 1st Place Pork Guitarbeque;Â  1st Place Pork Maine State Championship; 7th Pork Overall KCBS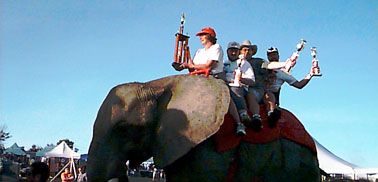 Name? Steve Farrin
Where From and/or where do you currently live? 35 year resident of Malden Massachusetts, just about 5 miles outside of Boston.
Married, kids, etc…? Single
Profession (even if not bbq 24/7– if you cater, vend, etc please mention)? Maintenance Mechanic.  I specialize in Digital Building Control systems and electronic repair of Scientific research equipment.  I help a friend with some catering a couple of times a year and we also Vend at a couple of BBQ comps.
# of pits and what are they? Hmmm let's see.  Backwoods Competitor, FE100, WSM,  ECB , Brinkman offset, a couple of kettles (the red one is not for sale), Weber gas grill and a big trailer mounted grill.  It looks like 9 is the number.  No wait,  I have a small gas grill sitting under my desk at work and little smokey joe in the garage.  11
Have you ever made your own pit, if so, how many and what styles? I've never made my own but my bbq teammate Charlie has made a couple that we've cooked on over the years.  One from a 250 gallon oil drum that I helped install a gasket on and a slightly modified brinkman offset.  We had a fire box mounted underneath the brinkman instead of on the side.
Earliest memory of bbqing– is/was your family involved? Not exactly bbq but cooking with wood.  My family had a big Labor Day party every year and we'd do a big Lobster bake over an open fire.  In the early days I was just a spectator with the rest of the young brats and then as the years moved along we were allowed to participate until finally we were running the show.  And man what show !
Favorite thing about bbqing? For me, bbq is about the competition and the camaraderie.  It's really fun competing when your enemies are your friends.
How you found the forum and when (if you can remember)? My team qualified for the 1998 American Royal and we had a million questions on what to expect.  I found the Forum doing a Lycos search for Kansas City BBQ.  Does anyone remember when Lycos was the big search engine ?
What was your first pit? A Brinkman bullet smoker aka ECB (el cheapo brinkman)
First thing you remember cooking (doesn't have to be bbq)? Can't really recall.  I've been cooking for as long as I can remember.  I do remember helping my Mom prepare her Spaghetti Sauce (we call it sauce in my family, none of that Gravy stuff) when I was very young.
Favorite bbq woods, charcoal, rub, sauce, etc?
Wood- Pecan
Charcoal- Wicked Good (my sponsor), Pellets- BBQ'rs Delight Pecan Pellets (my sponsor),
Rub: I make some of my own but I like Smokin Guns, Head Country and Slabs and I buy them at Hawgeyesbbq.com For Sauce: Blues Hog, Head Country and Texas Rib Rangers
Favorite/best competition memory (where, when, who with, team name, etc….)? I have many great memories of bbq comps but there are few I would like to mention. 
 My Team I Smell Smoke qualified for our first Royal in 1998 by winning the Pig n Pepper festival in Massachusetts.  Before the comp we were watching kids take rides on this big Elephant.  I'm not sure which one of us brought it up but we all agreed if we won the competition we would ride that Elephant.  We had a blast.
The second I'd like to mention is that first Royal we went to.  We placed third in Chicken and I still can't forget the feeling I had walking up to receive our Ribbon.  I know what people mean when they say it feels like being on cloud 9.  I swear I floated to the stage that day.
And finally I want to talk about a competition that I competed in last year with my Father.  It was in New Holland Pennsylvania.  We won the contest but that's not what makes it special.  Just being able to spend quality time with my Dad was a blast.  He really had a great time and it's nice to know that you can make your parents proud.  We plan on being there again this year.
Do you eat bbq in restaurants– if so, where, when  why? Once in awhile I do.  The New England BBQ society has what we call Road Trips where a bunch of us get together and go out to a local bbq joint.  It's a great time for cooks, judges and non competing members of the Society to socialize.  And sometimes the food is real good.
Favorite record albums, books, TV shows, movie, etc…whatever you want to include.
Dave Mathews Band, John Prine, Dances With Wolves, South Park, Reality TV
Favorite non-BBQ Food to eat and/or cook (or thing you eat most often when not eating bbq)? I'm a steakaholic.  Give me a ribeye and I'm a happy camper.
Favorite beer, favorite beer to drink w/ food? I'm not a big beer drinker.  Tequila on the other hand…
Favorite BBQForum Thread (can include "what's an abt?" if you want)? I like all the rules and judging threads.  They can get heated and sometimes drag on too long but it shows how much passion people have for competition bbq.
Least Favorite BBQForum Thread (ditto)? I'll bite my tongue on this one and plead the 5th
Do you have a web site and when did you start and why? http://www.ismellsmoke.com  I haven't updated it in quite awhile but It's on my list of things to do.  I also help to maintain the New England BBQ society web site at http://www.nebs.org
 
Leave a Reply
You must be logged in to post a comment.