Wed 12 Apr 2006
It seems impossible to be a regular reader of the bbqforum and to not have encountered one of the incredible creations shared by Chez (or John Eddy as he's also sometimes known). His dishes are often ingenious variations on classic American food that is, uhm, 'kicked up,' and given a whole other life. Other times they are truly unique inventions that spark the imagination. Always generous with recipes, advice and the Friday jukebox, Chez is one of the bbqforum regulars that gives so much to the community. Bon Appetit!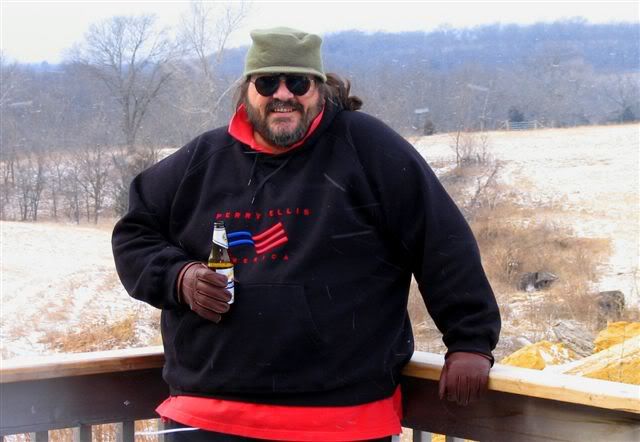 Name? John W. Eddy aka Chez
 
Where from and/or where do you currently live? Born & raised on a dairy farm in NE Kansas ~ Pottawattomie County.  Traveled all over the country, when I was a working chef, mostly Texas, Louisiana, Mississippi, Arkansas & Missouri … lived in Kansas City for about 8 years prior to moving to Topeka when I retired in 2001.
Married, kids, etc…? Nope.  Always worked too much to have a personal life.  Got a lil' niece & nephew that I adore, though.  Caitie is 18, and Alex is 16.
Profession (even if not bbq 24/7– if you cater, vend, etc please mention)? 40+ years in the restaurant business, grew up in a restaurant family … have owned several of my own restaurants (including a bbq restaurant). Opened my first restaurant when I was 18 yrs old.  Got my ACF certification (C.E.C.) when I was about 25 yrs old, and have worked as Executive Chef in many kinds of restaurants over the years, from big high-volume hotels & convention centers, to Country Clubs, to steak houses, to Mediterranean bistros & about everything in between.  Hung up my toque to become a full time day-trader (NASDAQ) in 1998 … and retired in 2001 when the markets crashed.  Still do a lil' day-trading … and some private chef work, just to keep a lil' spendin' money in my pocket.
# of pits and what are they? Currently have 2 WSMs, a vintage red Weber Kettle and a MECO Swinger II
  
 
Have you ever made your own pit, if so, how many and what styles? Yeah, my friends & I built a big smoker out of a discarded fuel tank we found in a pasture.  It was a monster, and frankly didn't work worth a damn, but we had fun with it. 
 
Earliest memory of bbqing– is/was your family involved? Well, my earliest memories are of my Dad bbqing … but he wasn't very good at it.  It wasn't till I was about 20 years old, and traveled to east Tennessee to visit some friends, that I discovered what real bbq was.  Been doing it *low & slow* ever since. 
Favorite thing about bbqing? I think I enjoy the social aspect of bbq the most … seems there are always friends around, usually some live music is being played, horseshoes being pitched, lies being told, etc.  On the other hand, I also enjoy the solitary cooks … seems the whole world slows down a bit … time for reflecting.  Not too many things I DON'T enjoy about bbqing.  Chowing down on the fruits of your labor ain't bad, either.
 
 
 How you found the forum and when (if you can remember)? Just found it by dumb luck … I was doing some research about different types of bbq in different regions of the country, and stumbled onto the BBQ Forum.  That was about 5 years ago … 2000/01?  I've learned a great deal from folks there … my bbq is definitely better because of it.
What was your first pit? First grill was a MECO … it's still my favorite *grill*.  First smoker was an ECB.
First thing you remember cooking (doesn't have to be bbq)? I think scrambled eggs ~ I was about 4-5 years old.  My Mom had a couple of lil' country cafe's when I was growing up, so I started cooking in them at an early age, like mebbe 9-10 yrs old.  By the time I was a teenager, I was a seasoned short-order cook.
Favorite bbq woods, charcoal, rub, sauce, etc? I like to use hickory & pecan wood … and also apple & peach wood.  I rarely use lump, using mostly Kingsford & sometimes Royal Oak briquettes in my WSMs & grills.  I use all kinds of rubs, mostly ones made by BBQ Forum folks … I make my own brisket rub, which is heavy on the pepper.  I also like to try different sauces, but a couple that I am NEVER without are Arthur Bryant's Original (for brisket) and Dumplin' Valley (for pulled pork).
Favorite/best competition memory (where, when, who with, team name, etc….)? I'm not into the comp scene, so don't have any favorite memories of comps.  I did the comp thing for a couple years, back in the late 80's … and decided it wasn't my cup of tea.
Do you eat bbq in restaurants– if so, where, when why? I tend to avoid bbq restaurants … but when I lived in Kansas City, there were a couple of joints that I frequented on a regular basis. 
Favorite record albums, books, TV shows, movie, etc… Whatever you want to
include. Don't even git me started on music!!  LOL  I'm an old throwback from the 60's … I listen to music from the time I get up in the morning, until I go to bed at night.  All day.  Every day.  Favorite music:  traditional bluegrass, acoustic blues, anything rootsy & americana.
Favorite non-BBQ Food to eat and/or cook (or thing you eat most often when
not eating bbq)? Cajun/Creole
Favorite beer, favorite beer to drink w/food? Got *clean & sober* in 1991 … got to the point where I was having just a lil' bit too much fun!!  LOL. After about 10 years of sobriety, I decided to allow myself to have NA beer.  My favorites are Buckler & Haake Beck … but my *everyday* swill is Old Milwaukee NA.  I drink a lot of good, black coffee … and fresh-brewed *sweet* tea.
Favorite BBQ Forum thread (can include "what's an abt?" if you want)? I tend to like the slightly off-topic threads … music threads, cooking threads, etc.
Least favorite BBQ Forum thread (ditto)? I'm gonna plead the 5th on this one.
Do you have a web site and when did you start and why? No web site currently.  I've had several, mainly when I was in the pizza business…used them in my guerrilla marketing campaigns.  I was the first franchisee in the company to develop a web page, and when I sold my pizza shops … since I owned the domain name … I was also able to sell the web sites & domain name to corporate, for a huge profit. 
Where you learned to cook/how you got into the biz? My Mom was a helluva cook, and so was my paternal Grandma.  I learned the basics from them, and beyond that … I'm pretty much self-taught. 
Restaurants you've worked in? Too many to list.  Here's a sample:
 
Small town cafes in Kansas
Steak & Prime Chop Houses in Texas
Cajun restaurants in Louisiana
Big casinos & hotels in Mississippi
Country clubs in Missouri
Mediterranean bistros in Kansas City
Pizzerias, chicken & catfish shacks, bbq joints, delis, sports bars, etc, etc.
Restaurant memory/disaster? Many memories, not very many disasters.  Most challenging gig was a contract catering job where we fed about 5,000 people at a big convention center … prime rib dinner the first night, breakfast the next morning & a sack lunch the same day.  15,000 plates in about a 16 hour time frame–off premise.  It was a logistical nightmare, but we pulled it off.
Recipe making history– do you 'taste them in your mind' or is it trial and error?  Yeah, I can pretty much envision & taste dishes in my mind, before actually creating them … as long as I'm using ingredients & spices & techniques that I'm familiar with. 
 
One Response to "Chez: Laissez Les Bon Temps Roulez!"
perrydize Says:
April 17th, 2006 at 10:03 am

Chez,
What a great pleasure it's been to have tasted your fantastic deserts, dishes, meats and sauces, and should I add…….Peppers……!

It's a fabulous opportunity to be a part of that. Thank-you, Nobob and lil'missy
from the FOLB Lodge