Fri 13 Oct 2006
While he doesn't post often on the bbqforum, people are probably familiar with Patrick's work at http://www.bbqlogos.com and http://www.hotspotgraphics.com. In the last few years his work has been popping all over the place with bbq teams, restaurants, and businesses all around the USA and the world. His reputation for speedy, friendly service and his ability to 'get it' in a hurry makes him a pleasure to work with. (Yes, he did my logo, too…).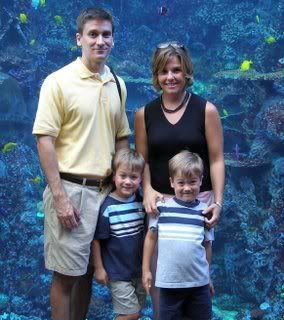 Name?  Patrick Carlson
Where From and/or where do you currently live? Born in Wichita, KS but raised and still live in Valdosta, Georgia
Married, kids, etc…? Wife, Jennifer; twin boys; Alex and Ben
Profession (even if not bbq 24/7– if you cater, vend, etc please mention)? Full time freelance cartoonist.  Work from home office.
# of pits and what are they? Only BBQing I've done is from a 10 year old gas grill from Sears….and I usually burn everything that I try to cook.
Do you eat bbq in restaurants– if so, where, when
why? Sonny's  BBQ (don't kill me)
Favorite record albums, books, TV shows, movie,
etc…whatever you want to include.  Classic rock, any movie except chick-flicks.
Favorite non-BBQ Food to eat and/or cook (or thing you
eat most often when not eating bbq)? Seafood!  I love seafood!
Favorite beer, favorite beer to drink w/ food?  No beer.  Coffee!  I love coffee!
Do you have a web site and when did you start and why?
www.bbqlogos.com and www.hotspotgraphics.com  I began drawing when I was in middle school.  Been drawing cartoons ever since…on my notebooks in school, on the bulletins in church.  Drew all the time.  Went to college and got a degree in Early Childhood Education (while trying to have my cartoons published – I chose teaching because it was a good, steady job that would allow me the time to work on my cartoons).  After college, I was a youth director in a local church and then moved into public education teaching 5-8 grade (science, math and social studies)  After teaching for almost 6 years (and freelancing with my artwork on the side) I realized I could make, and was making, more money on the side with my artwork than I was teaching.  So, in October, 2004, I quit teaching and began working fulltime at home with my cartoons and illustrations.  Since then, the business has grown.  I've done several children's books, hundreds of shirt designs, mascots, logos, web graphics.
 
I actually got into BBQ logos by accident.  I did one logo about 3 years ago and then heard nothing for about a year.  Then I got another logo that was referred to me from the first logo.  Then it just snowballed.  People were referring me all over the place.  But it wasn't until people began listing my logos on the BBQ forum when the BBQ logos exploded.  I've done over 500 logos (that count was taken several months ago – I haven't made a recent accounting of how many I've done)  I will say this, the people I've met through the BBQ logos have been the nicest, most down-to-earth people I've done work for.  I love meeting people from around the country (and the world – I've done BBQ logos for people in Germany and the Middle East!).
I just want to thank all the BBQ'ers out there.  Ya'll have been great to do business with!  Now, if I could just learn how to BBQ!
 
 
Leave a Reply
You must be logged in to post a comment.