Wed 1 Nov 2006
Probably most famous for his big pots of competition Gumbo and his pizzas, Steve is one of the more humble and generous members of the bbqforum. He is always willing to give advice, but is willing to admit that he may not have all the answers.
In his 'real' life, he is a Deputy Fire Marshall/Investigator in Colorado– he's one of those brave and noble people that save lives while we're all tucked up in our beds. Thanks, Steve. That's a brave way to pass the time.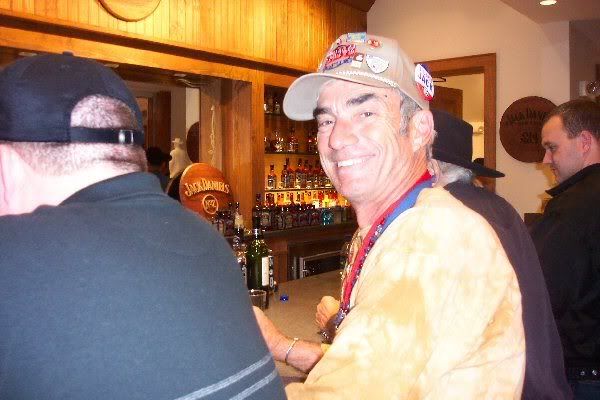 Name? Steve Marrs    
Where From and/or where do you currently live? Henderson, Colorado  31 years.  Born and raised in central Illinois 
 
 
Married, kids, etc…? One daughter and a 22 month old  grandson – Jameson 
 
 
Profession (even if not bbq 24/7– if you cater, vend, etc please mention)? 
Air Force vet, paramedic for 7 years, 29 years as Deputy Fire Marshal/ Investigator.  Spent several summers installing irrigation sprinkler systems and landscaping…that was before BBQ.  I do limited private catering for groups less than 300.  During the week I figure out how fires started, on weekends I try to keep fires burning.
 
# of pits and what are they?  Primary pit is an FE100 mounted in a 5×8 enclosed trailer. Several kettles, WSM. SNPPs, a ceramic.  Last count was a total of 17.   
 
 
Have you ever made your own pit, if so, how many and what styles? 
No, but do have the plans drawn up for a 500 gallon propane tank offset. 
 
 
Earliest memory of bbqing– is/was your family involved?  My dad had a brick bbq in the back yard.  It was always special when he fired it up.
Favorite thing about bbqing?  Seeing the pleasure of people eating good bbq.  Meeting and enjoying time with other teams at competitions. 
 
 
How you found the forum and when (if you can remember)?  July, 2002.  First time I had heard of competiton bbq, all the result of the application page in the back of the KCBS cookbook.  It's been all downhill since then. 
 
What was your first pit?  Brinkman SNPP, made all the mods before I ever fired it the first time.  Did a wedding reception for 60 a month later. 
 
 
First thing you remember cooking (doesn't have to be bbq)? Senior year in high school did a full blown Italian dinner with bread sticks for a class project. 
 
 
Favorite bbq woods, charcoal, rub, sauce, etc? 
Cherry, pecan and hickory. 
Duraflame hardwood charcoal. 
Rubs and sauces all come from Forum members.  
 
 
Favorite/best competition memory (where, when, who with, team name, etc….)? Frisco – 2002, was my first ever comp.  Osage City with Rick Salmon got my first ribbon (3rd in dessert)  Frisco- 2004, first comp on my own, 6th in ribs, first in pork and 4th overall. 
Do you eat bbq in restaurants– if so, where, when why?  No…sick of eating bbq.
 
Favorite record albums, books, TV shows, movie, etc…whatever you want to include.  Don't have time for much TV, haven't been to a movie in a couple of years. 
 
 
Favorite non-BBQ Food to eat and/or cook (or thing you eat most often when not eating bbq)?  Anything that starts or ends with Cajun!
Favorite beer, favorite beer to drink w/ food? 
Cold…
Favorite BBQForum Thread (can include "what's an abt?" 
if you want)? The ones that are a simple question that get 200 responses. 
 
 
Least Favorite BBQForum Thread (ditto)? Egos and flaming…just not needed. 
 
 
Do you have a web site and when did you start and why? Yes, but it's inactive. right now.