Wed 8 Nov 2006
Her recipes are the stuff of legend on the forum and she is one of the more genuine and enthusiastic posters and learners around. With her husband, Robert, Keri C.–as she's known on the forum–has been wading into competition
cooking and judging. They have also been busy giving back to their community by
donating their time and skill to cook for evacuees of Katrina and to organize Senior Q
events. She also doesn't seem to have any trouble standing toe-to-toe with the 'big boys."
Name? Keri Cathey (husband is Robert). Competing occasionally as HOT WIRE BBQ, and judging over a four or five state area.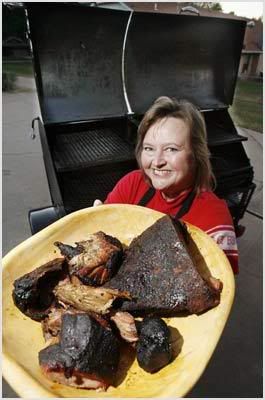 Where From and/or where do you currently live? Born in small town McAlester OK, living in Broken Arrow OK (a suburb of Tulsa) since 1994.
Married, kids, etc…? Married since 1980 to a very dear man named Robert who proudly wears the title of Towel Boy 1st class (now if I could just teach him what the duties are that go along with the title, I'd be in good shape!) No kids.
Profession (even if not bbq 24/7– if you cater, vend, etc please mention)? CPA, BS in Finance and Computer Information Systems, MBA with emphasis in Business
Systems, Paycheck supplied by doing financial forecasting with electric utility company for the last ten years, after spending fourteen years in public
accounting. I don't do catering or vending unless you count cooking for friends and neighbors, or contributing to the potluck events of the seniors' apartment complex where my grandmother
lives. I have those dear folks positively addicted to pulled pork these days. If I had to cook for a living I'd go broke, because I like to give it away too much.
# of pits and what are they? Two well-worn Weber Smoky Mountains, and a Diamond Plate Products
"Fat 50" (31 sq ft of cooking space, purty chrome wheels, and two authentic chrome Peterbilt
stacks. My favorite color is chrome…)
Have you ever made your own pit, if so, how many and what styles? No, but Robert is beginning to contemplate trying his hand at making a Stumps-style cooker.
Earliest memory of bbqing– is/was your family involved? The earliest memory I have of barbecuing is of helping my great-grandfather with a pig-pickin' in Murrels Inlet, SC. I was about five or six at the time, and Great-Grand-Daddy was in charge of the family pig-roasting for our family
reunion. He and I were quite fond of each other, so I finagled my way into staying up to
"help" him. I got to carry wood and even mop the pig a few times, and felt quite
important.
Favorite thing about bbqing? We just like feeding people. Sitting out in the back yard at 2:00 in the morning, watching the stars, watching the smoke wisp in and around the limbs of the pecan tree, and listening to the coyotes' serenade is kind of nice, too.
Another couple of favorite things of mine involved in barbecuing are my hand-made BBQ trays, made for me by some of my older South Carolina Hughes
cousins. They make BBQ trays and bowls from the trunks of the centuries-old Tupelo trees that are being unfortunately clear-cut from the marshes of South Carolina where Revolutionary War General Francis
"Swamp Fox" Marion reaked havoc on the British forces. The tray below is a small one – they make them large enough to hold a 200-lb whole hog, and families in the Johnsonville/Hemingway SC area borrow and lend the big ones back and forth for those
occasions. For size comparison, this tray is holding a pulled 9-lb pork butt (across the back side of the tray behind the ribs), a 14 lb packer (you can see the partially sliced flat across the front side of the tray), 4 full slabs of spares, and 6 hot links (part of a feed we did for a couple from Belgium that was touring the US a year or so back).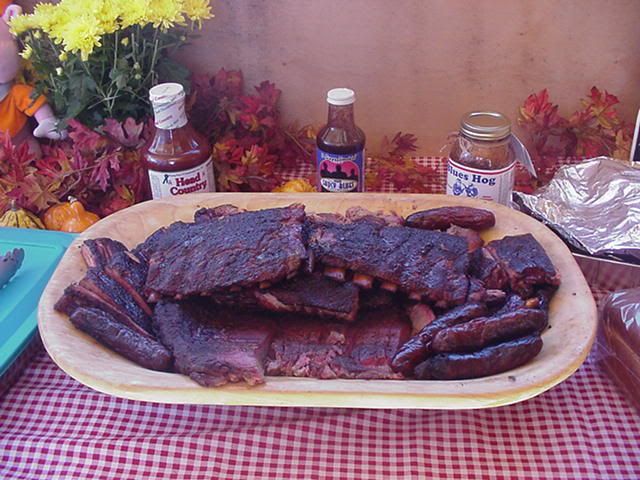 How you found the forum and when (if you can remember)? I appear to have made my first post on the Forum in 2001. I honestly don't remember how I found
it. I had been absorbing information on the old original BBQ Porch list since it was the Rick Thead list – I started there about 1998 or so, I think, and it seems like I heard mention of it on there.
What was your first pit? Robert and I received a good old-fashioned ECB Brinkman bullet from my grandmother soon after we got married in 1980, upon which he did quite a few tasty turkeys, but we didn't get much beyond that until later
on. We didn't know anything about fire control, air flow, or anything like that – we just put charcoal in the base and a turkey on the top, and watched that LOW-IDEAL-HIGH monitor like it was
gospel. And we ate it, whether it turned out decently or not.
First thing you remember cooking (doesn't have to be bbq)? The very first thing I remember cooking is when I was probably about 4 years
old. My grandmother had given me a lot of her old spices and staples that were out of date and due to be
trashed. I took them all to my grandfather's old BBQ grill on the patio along with some old pots and spoons, and I proceeded to mix, blend, and create the most delectable treats imaginable in my pretend kitchen (without fire, BTW – she drew the line at that). Around that same time frame I remember catching some small crappie whilst fishing with my grandfather – he quickly cleaned them for me and skewered them onto a sharpened stick, which I then held over a small fire and roasted right there by the
creek. Oh, and my Easy-Bake oven that I got when I was in kindergarten – can't forget
that!
Favorite bbq woods, charcoal, rub, sauce, etc? As far as wood, we like pecan and apple the
most. And peach, after they've been pruning the local peach orchard, as we have access to the trim piles in exchange for a slab or two of
ribs.
My uncle is a retired "pecan doctor" – a horticulturist specializing in pecans – and has a large pecan grove about 90 miles from
us. Whenever he has a tree that he plans on removing at some point, he ties a big yellow ribbon around it which signifies it as ours, whenever we want to come cut it
down.
Charcoal – Kingsford and Ozark Oak.
Rubs – Smokin' Guns Hot, Cimmaron Doc's out of Grove OK, Head Country out of Ponca City OK, Blues Hog out of Perry MO, various Chris Lilly recipes that I've
tweaked.
Favorite sauces – Head Country, Blues Hog and Blues Hog Tennessee Red.
Favorite/best competition memory (where, when, who with, team name, etc….)? Our graduation from enthusiastic observer to a higher level of participation at barbecue competitions happened several years ago all because of Candy Weaver, and I don't think I've ever thanked her for
this. Candy was coming to compete in Sapulpa OK several years ago, and invited us to come visit during
"social hour". We brought a cheesecake and a couple of six-packs of Shiner to contribute to the evening's victuals, and little did we know at the time the caliber of those with whom we were
socializing. This is where we first met Merl and Carol Whitebook, Donny and Cindy Teel of Buffalo's BBQ, Don and Sharon of Smokers Wild, Darcy Hicks of Ring of Fire, Mike and Debbie of Lotta Bull, Phil and Linda of Smokin' Guns, and other outstanding
teams. I think it was at that same competition that I also got to meet Elizabeth, the 6-ft pet boa of a friend of
Candy's. Tell me – if a 6-ft boa decided that it suddenly wanted to crawl down inside your shirt to stay warm, what would YOU do???
Another fond memory of a competition was Steve Marr's Rocky Mountain cook-off in 2004. Robert and I judged there, and I noticed while we were waiting for the awards ceremony that Steve was just getting started on writing out all those checks and seemed very
harried. I took a wild chance, walked up to the table where he was working, told him I was a CPA, and asked if I could help in any
way. He took me up on it, and I wound up in my own little room off to the side making out the checks while Steve took care of other
matters. I guess that was what started me and Robert in the habit of trying to help out where we could at
competitions.
Do you eat bbq in restaurants– if so, where, when, why? Very rarely anymore, as we've become spoiled BBQ
snobs. Exceptions: Mac's in Skiatook, OK – he used to compete, and has various 1st and 2nd place plaques on his wall from both the Jack and the
Royal. Nevertheless, an excellent restaurant. "Serious Texas Barbecue" in Durango, CO isn't bad, either – he's a Beaumont boy, and does a respectable job at
it. Otherwise, it's pretty much "Cathey's Café" for barbecue these days, though we don't cook that often just for
ourselves. Oh, another one called "Split Rail" near Coweta OK is quite good,
also – don't know the owners yet, but that's just a matter of time.
Favorite record albums, books, TV shows, movie, etc…whatever you want to include. Well, let's
see. Robert and I like to do a bit of cross-country motorcycle touring when we have the
opportunity. We have a pair of black Honda Gold Wings – some of the readers have probably seen us show up on them at various comps where we were either judging or supplying strong backs and weak minds to Merl and Carol for whatever use they might have for us at the
time. I'm also into genealogy, and the collection and restoration of vintage fountain
pens.
Favorite non-BBQ Food to eat and/or cook (or thing you eat most often when not eating bbq)? Good Thai food – love to eat it, haven't mastered it at home by any
means. I'm a hardcore cookbook collector, so my focus is pretty wide – I'm not a foo-foo cook,
though. I'm much more of an old country style cook, I suppose. Home-style Italian, country-style Louisiana dishes like etouffees, gumbos, and the
like. Since Robert and I have been on Weight Watchers so long, I've learned to take our old favorite recipes and
"skinny" them down so that we can still enjoy a healthier version of our old
favorites. Coq au Vin has rarely been seen in our house – beans, cornbread, and fried 'taters are still a favorite.
Favorite beer, favorite beer to drink w/ food? Sweet iced tea or lemonade with
food. Shiner Bock or my grandma's homemade "Country Champagne" on the rare occasion that I drink
beer. Dalwhinnie single malt scotch or Gentleman Jack, either neat or on a single ice cube with a little splash of branch water if I'm imbibing a bit more strongly.
Favorite BBQForum Thread (can include "what's an abt?" if you want)? Now that's a hard one to
answer. There have been so many that I've enjoyed immensely that I can't narrow it down to
one. All of the recipe threads, of course, I enjoy. And the ones about what the various individuals on the board do for a
living. And the results reports, of course – it's great fun to look down the results lists around the country and see so many names of people that we've had the honor of meeting over the last few
years. And anything posted by Chez and the Denver Cajun, of course!
Least Favorite BBQForum Thread (ditto)? Moaning and complaining about KCBS
judges. Makes many of us who try to do a good job at judging wonder why we even bother with it
sometimes. (Unless we happen to be competing at a given competition, and then we're liable to complain about those idiotic tasteless DSJ's as much as anybody else.)
Do you have a web site and when did you start and why? Starting in about 1996, I had a website dedicated to dog treat
recipes. It was called the "Golden Bone", and I had a large Mastercook text file there that people could download for
free. I received e-mail from all around the world from people who had downloaded the
recipes. Many non-profit organizations used the recipes in the file to create canine cuisine cookbooks to sell to raise money for rescue, spay/neuter programs, fund-raisers to buy bullet-proof vests and protective boots for police dogs, all sorts of great
causes. It disappeared earlier this year when my ISP shut down suddenly, and I just haven't put it back up
yet. I've set up web pages for other people, but I'm just not really inspired to do one for myself.