Mon 26 Nov 2007
Many people (even in the bbq world) may not know the name Ray Lampe, but if you say Dr. BBQ, most will nod with recognition. Some may even have some non-family-friendly things to say. But as they always say, actions speak louder than words. In Ray's case, this means alot.
His list of awards and trophy wins is constantly growing, he was a member of the KCBS board, is the spokesperson for the Big Green Egg cooker, and he's been seen on television beating some of the biggest names in competition barbecue.
Dr. BBQ is also an author who's numerous books can be found in almost any bookstore in the country, and on the shelves of many a serious 'quer as well as many lists of the best bbq cookbooks. The good Dr. also tours the country teaching bbq classes and writes a column answering readers' questions in Fiery-Foods & BBQ magazine. He was recently asked to teach bbq at the historic Greenbrier in West Virginia, where Steven Raichlen held court for many years.
His commitment to promoting and sharing his craft is undeniable and when he's not out competing, teaching or helping others hands-on, he can be found on any number of bbq forums answering questions to help others improve their own art. His straightforward no nonsense style may not always win him friends, but there's no denying it is authentic.
His new book, The NFL Game Day Cookbook is set to be released in June, 2008
Take it away, Doc….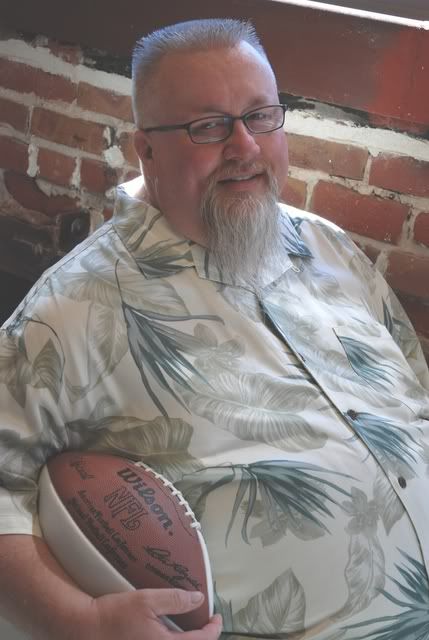 Name? Ray Lampe aka Dr. BBQ
Where From and/or where do you currently live? I was born in Chicago and lived in the suburbs until 2000 when I moved to Lakeland, Florida where I live now.
Married, kids, etc…? Single
Profession (even if not bbq 24/7– if you cater, vend, etc please mention)? I'm a full time BBQ man. I've written three books on BBQ and one on tailgating. I write the "Ask Dr. BBQ" column for Fiery Foods & BBQ magazine and www.fiery-foods.com I'm the spokeschef for Big Green Egg. I teach BBQ competition cooking classes. I do personal appearances for businesses and stores. I'm one of the new BBQ instructors at The Greenbrier in West Virginia and once in a great while I do a catering job.
# of pits and what are they? I was telling someone the other day that I don't actually own any BBQ pits right now. I work for Big Green Egg and have 2 medium eggs, two large eggs and an XL egg around here and the guys at Cookshack keep me in a loaner FEC100 all the time and then there's that FEC500 in Tampa that I have access to so I guess I don't need to own any. I do have about 10 grills in the shed and on the patio but they don't get used.
Have you ever made your own pit, if so, how many and what styles? My buddy was a welder and we made a grill out of a big toolbox once and a few barrel grills but that was a long time ago.
Earliest memory of bbqing– is/was your family involved? My first crack at real BBQ was actually my first cookoff. It was a rib cookoff in 1982 in Grant Park in downtown Chicago. I read up a little and cooked some pretty good ribs on a borrowed Weber kettle. I didn't win anything but it was the beginning of an amazing trip.
Favorite thing about bbqing? The people I've met and the places I've been able to go to.
How you found the forum and when (if you can remember)? In about 1998 my neighbor got a computer and got hooked up to the internet. She didn't really know what to do with it and neither did I, but we somehow found the BBQ Forum. It was so lean back then that we weren't really sure it was even alive. The functional internet was very new at the time. A short while later I got my own computer and started reading the forum daily and soon began posting.
What was your first pit? My first BBQ cooker was an el cheapo Brinkman but my first real pit was a Jedmaster on a trailer. It was one of the first ones built.
First thing you remember cooking (doesn't have to be bbq)? Apple Pie in high school foods class. 1972
Favorite bbq woods, charcoal, rub, sauce, etc? I like to cook with lump charcoal and 2/3 cherry and 1/3 hickory wood for flavor. I'm also a big fan of pellet cookers.
My favorite sauce is Gates Original and my favorite rub is my own Bonesmokers. As an exotic rub I like Dizzy Pig Tsunami Spin. It's great on chicken.
Favorite/best competition memory (where, when, who with, team name, etc….)? So many to pick from. Getting a jug at the Jack or a trophy at the Royal are up there. I got a special award at the cookoff in Lebanon this year for Blazing the Trail. That was pretty special. Getting elected to the KCBS board was quite an honor. First Grand Championship in Michigan in 1994 was very cool too.
Do you eat bbq in restaurants– if so, where, when why? Yeah, all the time. I like restaurant BBQ much better than contest BBQ. Every time I go somewhere people want to take me to the local BBQ joint and I don't mind. They're usually pretty good. Of course I ate in many BBQ joints all over the country while I was writing BBQ Road Trip. I like going to Big Bob Gibson's and Arthur Bryant's. I like Cozy Corner and Black's and Clem Mikeska's and Interstate and Dreamland and Blue Smoke and I recently ate at Hill Country in New York and it was good too.
Favorite record albums, books, TV shows, movie, etc…whatever you want to include. I just got a new Voyager phone and the first album I downloaded was John Prine Live. I listen to John Prine all the time. I like the same music I did 30 years ago. The Beatles, Pink Floyd, Jethro Tull, Little Feat.
I like South Park.
Movie? Blue Velvet.
Favorite non-BBQ Food to eat and/or cook (or thing you eat most often when not eating bbq)? I love to eat the native food wherever I am. Cheese Steaks in Philly, Italian Beef in Chicago, Lobster in Maine. If I'm cooking it's something braised. Lamb shanks are my favorite.
Favorite beer, favorite beer to drink w/ food? Old Style. It's not the same great beer that it used to be but the memory still serves me well. I drink more Hard Lemonade than beer these days. With food I'd rather have a Diet Pepsi.
Favorite BBQForum Thread (can include "what's an abt?" if you want)? I'm a real straight shooter and I expect the same from others, so I like it when bullshitters get caught bullshitting.
Least Favorite BBQForum Thread (ditto)? The threads from the soap boxers that think they can really bring a light to the subject at hand and everyone will understand and agree. Get serious.
Do you have a web site and when did you start and why? Yes, I have www.drbbq.com and a bunch of other addresses. They all point to the same site though. I am fascinated by the internet so when having your own website became doable I jumped in. Ray Basso helped me out (and still does) and we put up a fun website. These days it's professionally done and strictly business, it's been a very good tool for business.
Photo of Ray Lampe by Michael Carabetta
Leave a Reply
You must be logged in to post a comment.